The concept for my retreat is that it's actually YOUR RETREAT.
A perfect way to learn about Pilates and share the experience with your friends and family in a familiar setting, whilst at the same time having the freedom to create and host your own bespoke event.
As host, you will have the complete freedom to plan your event around my 8 session programme, so that the social side of your retreat is exactly as you want it. Whether you're aiming to provide a weekend of laughter and learning, or mindfulness and relaxation, between us we can create a unique experience – ultimately leaving you and your guests more flexible and refreshed with fond memories of a shared experience together.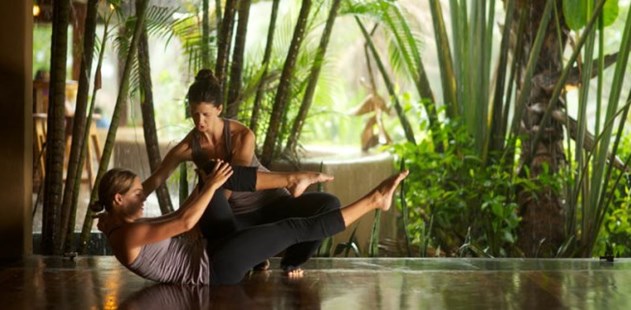 The programme can be devised for complete beginners, or those who have practiced Pilates and want to understand more about the fundamentals of how the body moves and works, building body awareness and movement technique.
Day 1  4 x 60 minute sessions working through classic Pilates exercises in all start positions, breaking them down to get a good understanding of how and why we do them. This is a slower paced exploratory day.
Day 2  4 x 60 minute sessions putting what we learnt on Day 1 into practice using small equipment (resistance band, overball, toning circle and foam roller). This is a faster paced day which will be much more challenging and invigorating – but only if you want it to be!!!
Both days will include discussion. demonstration and adaptation with verbal cuing and hands on correction, to help you get the absolute most out of your retreat.
What's Included
All small equipment other than your mat/head cushion.
All participants will receive a summary of the exercises that we have spent the weekend 'perfecting' for your on-going home practice!
I will be discretely available to you and your guests outside of the planned sessions for any clarification and/or further general discussion.
In addition, I will provide you with suggestions of good quality on-line resources and other references for further practice, equipment advice if required and suggestions about the type of group class you may wish to consider joining in the future.
Cost
FREE for you as the host (see terms)
£220 – £250 per guest based on location
Minimum 6 people – maximum 12 people
Please Note: If you would like a Pregnancy / Postnatal / Bone Health focused weekend the numbers would be limited to a maximum of 8
Please contact me to find out more or to chat through your requirements
Terms can be seen here